view from the ridge
Path to Eagle Rock, Topanga Canyon, California,
While on writing intensive with Deena Metzger, May 2015
In May, I finished the draft of my book.
It took me 18 months to write it.
The first year was pretty much 15 minutes a day, plus retreats.
Then I got impatient and decided I wanted this draft done before I turned 40. I picked up the pace and increased my average daily writing session. I gave myself the deadline of July 1 and calculated how many words I would have to write a day to get there.
Then I decided to sign up for a week-long writing intensive in May, and I really wanted the draft done before that, so I moved the deadline up to May 22.
I'll turn 40 in January, and now I have a new draft of the book.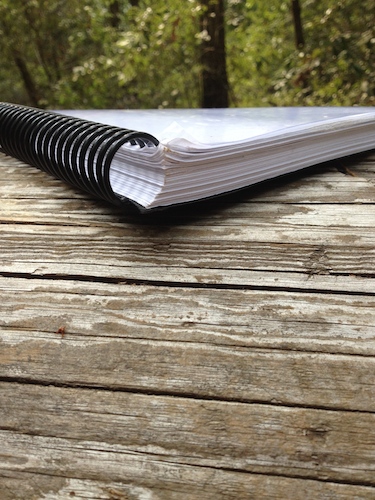 Book draft on a log where I was reading, Fall 2015
The process of writing this book has long appeared to me as walking a path. When I got back on this path after many years spent walking other paths – mostly the one called Motherhood, with frequent detours down the steep, dark trail called Sleep Deprivation – the book path led up a mountain called A New Rough Draft.
This book path is the journey of a thousand tiny steps. It is about showing up at the page as close to daily as I can muster, stringing writing sessions together like tiny beads on a string. It is about keeping the sense of the mountain before me but not fixating on how far I still am from the top. It is about focusing on the little bit of land beneath my feet, the stretch of path to walk today.
I climbed the mountain. I got to the ridge at the top on May 22.
You know what happens when you make it to the top of the ridge, right? That's when you can finally see the vista that was hidden by what you were climbing.
And now that the new vista has opened up before me, what do I see? More mountains, of course.
The mountain called First Revision is the most prominent in my new view, but I know that after that, the path curves around and encounters new peaks. I don't know exactly how high they are. I don't know the particulars of the path – whether it wanders through shady glens or marches straight up, relentless and exposed. Its hidden trajectory is full of unknowns.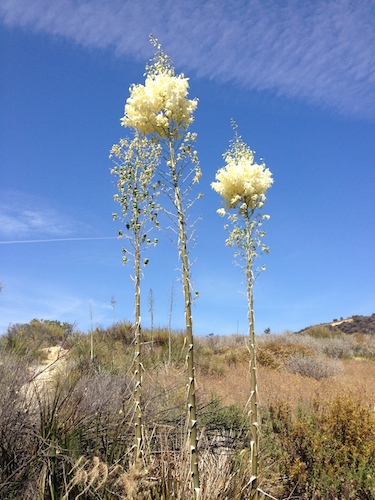 So I've been taking a little time to savor the view from where I've managed to climb to. Taking a pause, busting out that chocolate bar I've been saving for this moment. Looking out over the terrain I've traveled, all with my two own feet. The hills, the valleys, the parts of the trail that looked easy but felt difficult, and the reverse.
In other words, I've been working on some other projects, shoring up my strength for what comes ahead. I created a revision plan, based on strategies other writers use to help them tackle the daunting task of revising a book. I nurtured devotion to the story and started meditating as a way to help me access the spiritual aspect of a daily writing practice.
And now I can feel my impatience building to get back on the trail. Which is good news. There's plenty more journey ahead.
***
Say hi! To leave a comment, click here & scroll down.