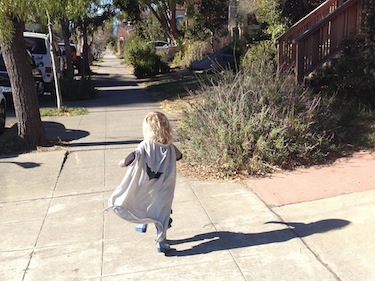 It was like this, but in the dark
Today I felt like a crappy mom.
It happens sometimes.
We're just back from a week away, spent in San Diego with my family. Time to get back into schedules, routines, all that fun stuff that everyone in my family loves.
Don't get me wrong – we have a great "regular" life. But Legoland and the beach are more fun.
So today was one of my days when I've got Emry all day, no preschool in the morning. We have two of those a week. I usually make sure we do some kind of activity on these mornings, even just a simple 1-hour visit to the park that's a block from our house. But every once in a while, we have a morning when it just doesn't happen. I took him with me to drop Elan off at school, we read books in the school library for a while per usual, and then we came home around 9 a.m. And then one thing happened, and another. I had a slow cooker dinner to get started, laundry to do, an unexpected work call that came up, more laundry to do…
And the thing about Emry is that he actually is remarkably self-entertaining for a 3-year-old. He is completely Lego-obsessed (even before the trip to Legoland and the Lego movie, both in the past week), and he will play with Legos for an impressively long time. But eventually he gets frustrated and needy, and I get frustrated because I'm half-way into the cooking/laundry/call/other stuff, and then I'm into serious juggle mode, and I start to feel like a crazy person.
This time, I decided it was time to run out to the park. But first he didn't want to change out of his sleeper, even though the day had turned quite warm. Then his socks weren't right. Then his shoes weren't right. Then the other shoes were bad too. About the time he refused to leave the house unless we changed his shirt, but then wouldn't go into the house to do said shirt change, I lost my patience. I said, "We'll change your shirt and then read upstairs." Except I probably kinda yelled it.
Then he cried, in this sad, pathetic way, gigantic tears splashing down his cheeks, wailing "Dada!" like I had done something awful to him by deciding not to take him out of the house even though, despite all my cajoling, he had been refusing to leave the house for the last fifteen minutes.
Three-year-olds make no sense. You know this, right?
We made up. I kissed his salty, sweet baby cheeks (don't tell him I called him a baby). We went upstairs. He forgot about the desperate need to change his shirt. We read peacefully. I put him in his crib (he still sleeps in our trusty Phil and Ted's portable crib) and told him his nap time story.
And then… just as I was finishing up the story, with my head near the mesh sides of his crib, relaxed in the semi-darkness of the room, out of nowhere, he flung his head into mine. Point-blank smash into my forehead. Totally unexpected.
I do not react well to sudden, substantial pain caused by another human being.
I yelled and left, slamming the door behind me for emphasis of how unacceptable it is to point-blank smash your head into another person's.
He cried that same sad way, wailing "Dada."
I blamed him for being wild. But I blamed myself more. I blamed myself for not getting him out of the house sooner, for not paying more attention to him earlier in the morning, for not making sure he ate a more substantial breakfast and a more established lunch. For doing too many things at once. For buying into the myth of multi-tasking, which usually ends up biting me on the butt when I try to do too much of it while also being responsible for the care & feeding of one or more of my children. I don't know if this is just me, or if everyone finds it this challenging to get stuff done while also taking care of their kids. I do it all the time, but eventually it makes my head ring.
Fast-forward half a day, skip over several more temper tantrums thrown by both children after we wouldn't let them watch Ninjago with dinner.
Eight p.m. on an unusually warm night. The four of us played spies outside. Both boys in their PJs and Batman capes, Mikhail in sparkly bat ears and holding a large bamboo staff, me in a hoodie with a red flashlight, we snuck down the sidewalk. If a car came down the street, we hid in neighbors' bushes and behind parked cars. We whispered loudly about "them" – as in "watch out, they're coming." We went to the park and ran through a 2-minute obstacle course to "get the secret code." We ran home through a night populated by other spies and unnamed bad guys.
And when we got home, at 8:20 on the dot, I felt like a great mama. World-class, in fact.